The Montana Flat
Burning Horse 2019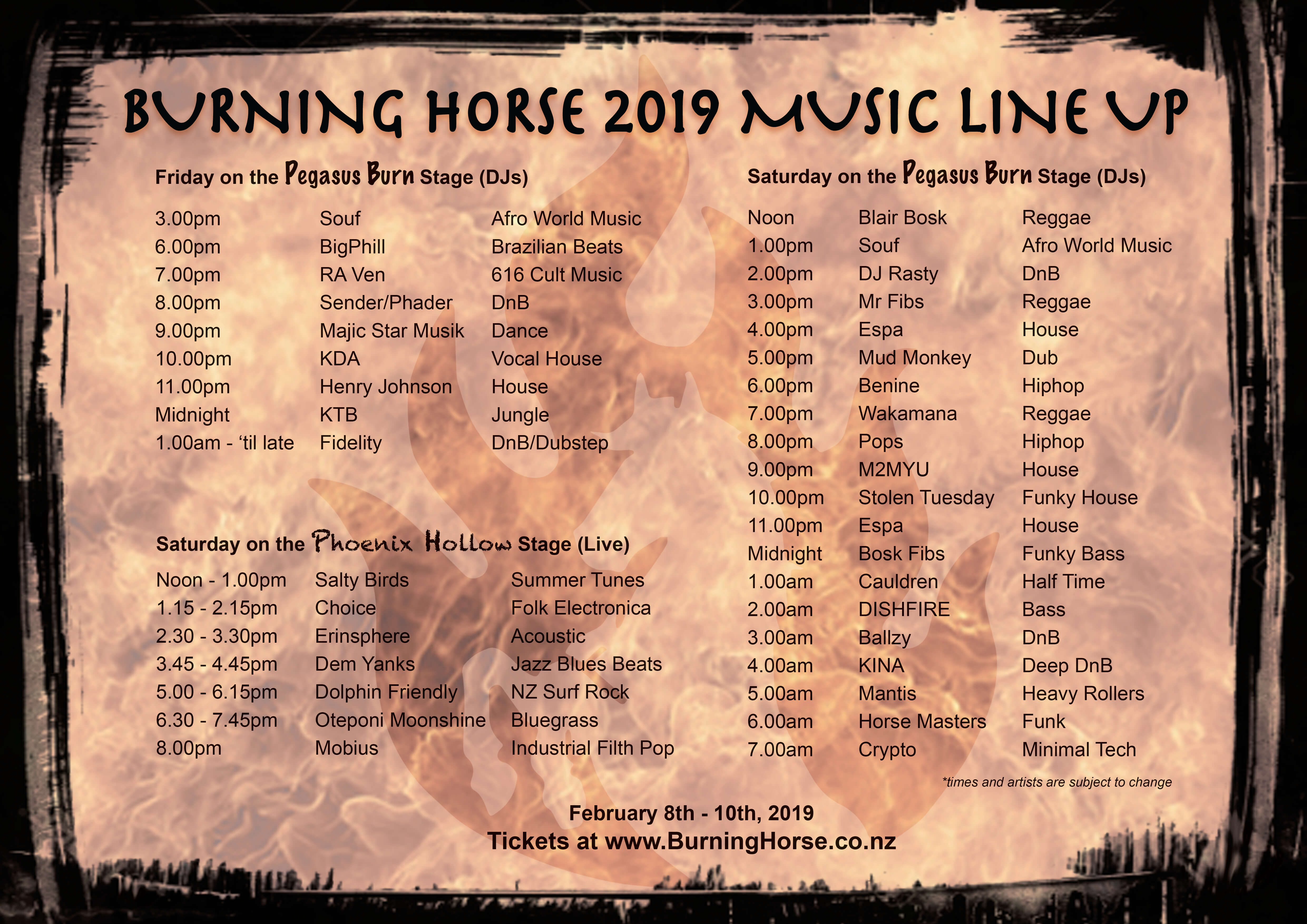 Burning Horse is stoked to be back this Summer!

Join us in February for an epic fun, transformational, multidisciplinary music and arts festival. Held on a family run sheep farm "The Montana Flat" you'll have a fine opportunity to connect with nature and soak in the scenes of Southland rural landscape.

You'll find a diverse range of artists, electronic and acoustic, throwing down some bangin' eclectic tunes over two feature stages. Live spray-painting, light shows, screen-printing and fire-spinning will add to the artistic experience.

Farm to plate grazing, backyard games, circus arts, a giant river float party, a disc golf tournament. You're gonna find something you're looking for here (or better - something you had no idea you were looking for). Check the website for more info on what Burning Horse is all about.

We can't wait to see you here at The Montana Flat. ROAR

Express yourself!
ESSENTIAL INFO:
- Gates will open at 3pm on Friday. Gates will be closed between 2am and 8am Friday and Saturday and there will be no entry/exit during these times.

- The address is 11 O'Shea Road, Waimea. After turning off of Ardlussa Road you will stay straight on O'Shea Road until you reach the festival entry gate. Please do not stray from O'Shea Rd onto private property at any point.
- This is a licensed event with a full bar. No BYO.

- Food options available or you can bring a picnic.

- Free camping on site - get involved!
- Children are welcome under adult supervision.

- Bring solid footwear - this is a party on a farm (the ground is very uneven and unpredictable)!

- Bring torches and headlamps.

- Bring cash.

- Bring your mates.

- Bring camping necessities and luxuries (best camp win's a free pass to BH 2020).

- Bring a floaty (best floaty wins a free pass to BH2020).

- Bring your party shirts (best dress - free pass to BH 2020).

- Bring a good attitude.